Leonardi Benne has been in the market since 1960, when it was founded by Mr. Valter Leonardi. Over the years his sons Sergio and Giorgio became responsible for the project and production sectors.
The company's principle is to cooperate with the leading O.E.M. manufacturers, providing its 50 years experience in special equipment.
LEONARDI BENNE produces buckets, forks and special equipments for rock extraction, building activities and big infrastructures, wood loading and unloading, waste management and recycling.
The Company's driving force lies in its Design Office, in which technological innovation and traditional experience coexist, allowing versatility and ability to deal with any kind of activity.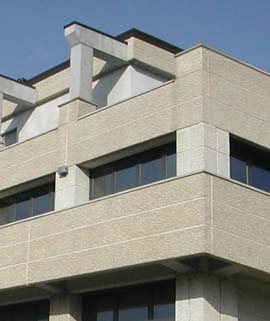 HISTORY
1960 THE BEGINNING
LEONARDI BENNE was founded in 1960 by Mr. Valter Leonardi in Modena, at that time a well-advanced town in the field of engineering and in particular of agricultural and earthmoving equipment.
1980 STRENGHTENING THE FAMILY BUSINESS
In 1980 Mr. Leonardi's sons, Sergio and Giorgio, entered the company, respectively, in the commercial-design and production-quality control sectors.
An advanced Technical Office and the personal support offered to customers start to play a central role and represent an authentic value for the Company.
1990 INFORMATICS AND CERTIFICATION
Leonardi Benne's new generation updates its designing system replacing the traditional drawing-board system with two CAD stations and a special plotter able to print big formats and to design in all 2D formats, scales and dimensions.
The factory turns from manual metal sheets cutting to numerical control cutting and begins to use CAD-CAM method for metal sheets bending and mechanical manufacturing: at that time it was a real revolution.
Once again a forward-looking choice produces positive results, allowing the acquisition of new important European customers.
2000: THE NEW UNIT IN SAN CESARIO SUL PANARO MODENA
The success in the market leads the company to make new investments: a new plot of ground is acquired and a new production unit is built on a 7,000 sqm area, entirely assigned to buckets and attachments for wheeled loaders manufacture.
THE PRESENT AND THE FUTURE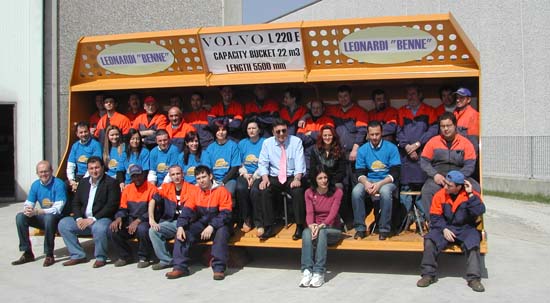 THE PRESENT
Leonardi Benne focuses on innovation, constant development, continuous research of new materials and markets.
The company also focuses its attention on both real and virtual design systems, on the study of component parts and their specific functions to constantly improve the quality-price ratio.
Continuous training for employees is strategic for the success of the company as well as workers' safety, prevention and eco-friendly policies.
THE FUTURE
"To look ahead": thanks to this philosophy the company has been reaching significant results.
Land for a new production unit, of more than 10,000 sqm., has been acquired next to the current headquarter in Modena, and a building program for a multi-function plant for bucket manufacturing has been designed. One of the purposes of this new unit is to give each customer a specific covered area to store goods that can be subsequently sent to final clients (a kind of storehouse for customers in the manufacturer's location).
Another objective is to store a large number of attachments ready to be delivered to all regular customers.
REFERENCES